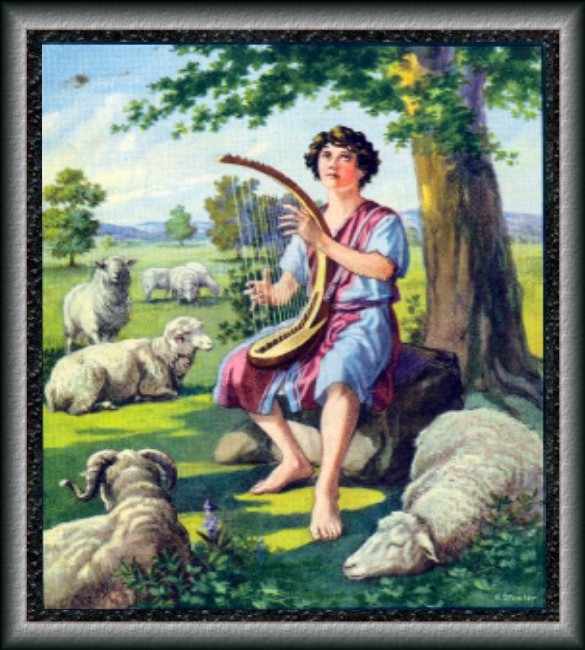 Nature As An Educator.
The great honor conferred upon David did not serve to elate him. Notwithstanding the high position which he was to occupy, he quietly continued his employment, content to await the development of the Lord's plans in his own time and way. As humble and modest as before his anointing, the shepherd boy returned to the hills, and watched and guarded his flocks as tenderly as ever. But with new inspiration he composed his melodies, and played upon his harp. Before him spread a landscape of rich and varied beauty. The vines, with their clustering fruit, brightened in the sunshine. The forest trees, with their green foliage, swayed in the breeze. He beheld the sun flooding the heavens with light, coming forth as a bridegroom out of his chamber, and rejoicing as a strong man to run a race. There were the bold summits of the hills reaching toward the sky; in the far-away distance rose the barren cliffs of the mountain wall of Moab; above all spread the tender blue of the overarching heavens; and beyond was God. He could not see him, but his works were full of his praise. The light of day, gilding forest and mountain, meadow and stream, carried the mind up to behold the Father of lights, the Author of every good and perfect gift. Daily revelations of the character and majesty of his Creator, filled the young poet's heart with adoration and rejoicing. In contemplation of God and his works, the faculties of David's mind and heart were developing and strengthening for the work of his after life. He was daily coming into a more intimate communion with God. His mind was constantly penetrating into new depths, for fresh themes to inspire his song, and to wake the music of his harp. The rich melody of his voice poured out upon the air, echoed from the hills as if responsive to the rejoicing of the angels' songs in heaven.
Who can measure the results of those years of toil and wandering among the lonely hills? The communion with nature and with God, the care of his flocks, the perils and deliverances, the griefs and joys of his lowly lot, were not only to mould the character of David, and to influence his future life, but through the psalms of Israel's sweet singer, they were, in all coming ages, to kindle love and faith in the hearts of God's people, bringing them nearer to the ever-loving heart of Him in whom all his creatures live.
CE 204