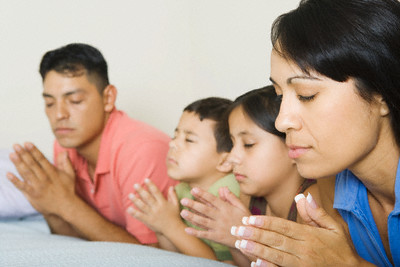 Worship Hour
Have Fixed Times for Worship.--In every family there should be a fixed time for morning and evening worship. How appropriate it is for parents to gather their children about them before the fast is broken, to thank the heavenly Father for His protection during the night, and to ask Him for His help and guidance and watch care during the day! How fitting, also, when evening comes, for parents and children to gather once more before Him and thank Him for the blessings of the day that is past!
Do Not Be Governed by Circumstances.--Family worship should not be governed by circumstances. You are not to pray occasionally and, when you have a large day's work to do, neglect it. In thus doing you lead your children to look upon prayer as of no special consequence. Prayer means very much to the children of God, and thank offerings should come up before God morning and evening. Says the psalmist, "O come, let us sing unto the Lord: let us make a joyful noise to the rock of our salvation. Let us come before his presence with thanksgiving, and make a joyful noise unto him with psalms."
Fathers and mothers, however pressing your business, do not fail to gather your family around God's altar. Ask for the guardianship of holy angels in your home. Remember that your dear ones are exposed to temptations.
In our efforts for the comfort and happiness of guests, let us not overlook our obligations to God. The hour of prayer should not be neglected for any consideration. Do not talk and amuse yourselves till all are too weary to enjoy the season of devotion. To do this is to present to God a lame offering. At an early hour of the evening, when we can pray unhurriedly and understandingly, we should present our supplications and raise our voices in happy, grateful praise.
Let all who visit Christians see that the hour of prayer is the most precious, the most sacred, and the happiest hour of the day. These seasons of devotion exert a refining, elevating influence upon all who participate in them. They bring a peace and rest grateful to the spirit.
Children to Respect the Worship Hour.--Your children should be educated to be kind, thoughtful of others, gentle, easy to be entreated, and, above everything else, to respect religious things and feel the importance of the claims of God. They should be taught to respect the hour of prayer; they should be required to rise in the morning so as to be present at family worship.
CG 521