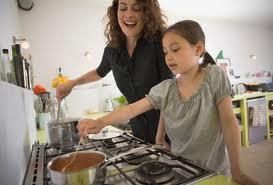 Usefulness
Insures Restful Sleep.
Mothers should take their daughters with them into the kitchen and patiently educate them. Their constitution will be better for such labor, their muscles will gain tone and strength, and their meditations will be more healthy and elevated at the close of the day. They may be weary, but how sweet is rest after a proper amount of labor! Sleep, nature's sweet restorer, invigorates the weary body and prepares it for the next day's duties. Do not intimate to your children that it is no matter whether they labor or not. Teach them that their help is needed, that their time is of value, and that you depend on their labor.
It is a sin to let children grow up in idleness. Let them exercise their limbs and muscles, even if it wearies them. If they are not overworked, how can weariness harm them more than it harms you? There is quite a difference between weariness and exhaustion. Children need more frequent change of employment and intervals of rest than grown persons do; but even when quite young, they may begin learning to work, and they will be happy in the thought that they are making themselves useful. Their sleep will be sweet after healthful labor, and they will be refreshed for the next day's work.
Do Not Say, "My Children Bother Me."--"Oh," say some mothers, "my children bother me when they try to help me." So did mine, but do you think I let them know it? Praise your children. Teach them, line upon line, precept upon precept. This is better than reading novels, better than making calls, better than following the fashions of the world.
AH 289